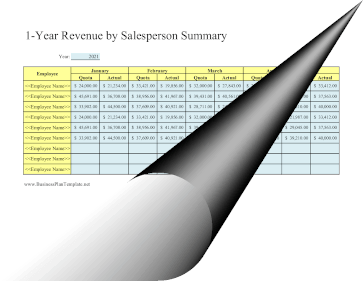 12-Month Revenue Summary By Salesperson With Quota
This printable annual revenue summary tracks money generated by each salesperson and compares it to their yearly quota. User fills in the blue cells; white cells fill automatically.
50 editable sales printables in one convenient download



My safe download promise

. Downloads are subject to this site's

term of use

.







Sample text from 12-Month Revenue Summary By Salesperson With Quota:
1-Year Revenue by Salesperson Summary
Employee
Jan
Feb
Mar
Apr
May
Jun
Jul
Aug
Sept
Oct
Nov
Dec
Total $
Balance
 
Quota
Actual
Quota
Actual
Quota
Actual
Quota
Actual
Quota
Actual
Quota
Actual
Quota
Actual
Quota
Actual
Quota
Actual
Quota
Actual
Quota
Actual
Quota
Actual
Quota
Actual
 
Employee Name
 
 
 
 
 
 
 
 
 
 
 
 
 
 
 
 
 
 
 
 
 
 
 
 
 
 
 
Employee Name
 
 
 
 
 
 
 
 
 
 
 
 
 
 
 
 
 
 
 
 
 
 
 
 
 
 
 
Employee Name
 
 
 
 
 
 
 
 
 
 
 
 
 
 
 
 
 
 
 
 
 
 
 
 
 
 
 
Employee Name
 
 
 
 
 
 
 
 
 
 
 
 
 
 
 
 
 
 
 
 
 
 
 
 
 
 
 
Employee Name
 
 
 
 
 
 
 
 
 
 
 
 
 
 
 
 
 
 
 
 
 
 
 
 
 
 
 
Employee Name
 
 
 
 
 
 
 
 
 
 
 
 
 
 
 
 
 
 
 
 
 
 
 
 
 
 
 
Employee Name
 
 
 
 
 
 
 
 
 
 
 
 
 
 
 
 
 
 
 
 
 
 
 
 
 
 
 
Employee Name
 
 
 
 
 
 
 
 
 
 
 
 
 
 
 
 
 
 
 
 
 
 
 
 
 
 
 
Employee Name