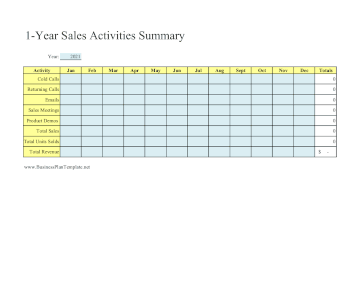 12-Month Sales Activity Summary
This printable annual summary follows sales actions taken over the course of the year, including cold calls, product demos and sales meetings. User fills in the blue cells; white cells fill automatically.
50 editable sales printables in one convenient download



My safe download promise

. Downloads are subject to this site's

term of use

.




Sample text from 12-Month Sales Activity Summary:
1-Year Sales Activities Summary
| | | | | | | | | | | | | | |
| --- | --- | --- | --- | --- | --- | --- | --- | --- | --- | --- | --- | --- | --- |
| Activity | Jan | Feb | Mar | Apr | May | Jun | Jul | Aug | Sept | Oct | Nov | Dec | Totals |
| Cold Calls |   |   |   |   |   |   |   |   |   |   |   |   |   |
| Returning Calls |   |   |   |   |   |   |   |   |   |   |   |   |   |
| Emails |   |   |   |   |   |   |   |   |   |   |   |   |   |
| Sales Meetings |   |   |   |   |   |   |   |   |   |   |   |   |   |
| Product Demos |   |   |   |   |   |   |   |   |   |   |   |   |   |
| Total Sales |   |   |   |   |   |   |   |   |   |   |   |   |   |
| Total Units Sold |   |   |   |   |   |   |   |   |   |   |   |   |   |
| Total Revenue |   |   |   |   |   |   |   |   |   |   |   |   |   |