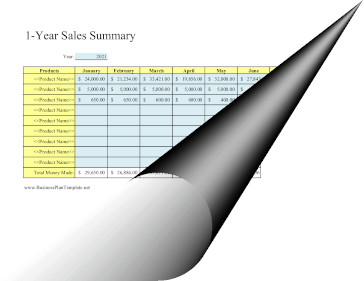 12-Month Sales Summary
Track the number of products sold over the course of a year as well as the revenue generated using this printable yearly summary. User fills in the blue cells; white cells fill automatically.
50 editable sales printables in one convenient download



My safe download promise

. Downloads are subject to this site's

term of use

.






Sample text from 12-Month Sales Summary:
1-Year Sales Summary
| | | | | | | | | | | | | | | | |
| --- | --- | --- | --- | --- | --- | --- | --- | --- | --- | --- | --- | --- | --- | --- | --- |
| Products | January | February | March | April | May | June | July | August | September | October | November | December | Total $ | Price Per Unit | Total Sales |
| Product Name |   |   |   |   |   |   |   |   |   |   |   |   |   |   |   |
| Product Name |   |   |   |   |   |   |   |   |   |   |   |   |   |   |   |
| Product Name |   |   |   |   |   |   |   |   |   |   |   |   |   |   |   |
| Product Name |   |   |   |   |   |   |   |   |   |   |   |   |   |   |   |
| Product Name |   |   |   |   |   |   |   |   |   |   |   |   |   |   |   |
| Product Name |   |   |   |   |   |   |   |   |   |   |   |   |   |   |   |
| Product Name |   |   |   |   |   |   |   |   |   |   |   |   |   |   |   |
| Product Name |   |   |   |   |   |   |   |   |   |   |   |   |   |   |   |
| Product Name |   |   |   |   |   |   |   |   |   |   |   |   |   |   |   |
| Total Money Made |   |   |   |   |   |   |   |   |   |   |   |   |   |   |   |