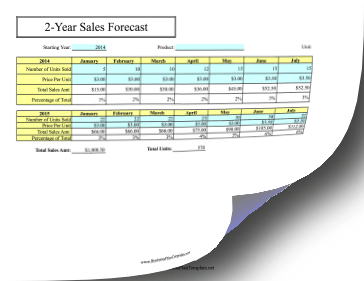 24-Month Sales Forecast
If you want to plan or predict your future sales over the next two years, use the 24-month calendar to calculate units sold, price per unit, and total sales. Fill in the blue boxes; the rest is calculated automatically.
50 editable sales printables in one convenient download



My safe download promise

. Downloads are subject to this site's

term of use

.






Sample text from 24-Month Sales Forecast:
2-Year Sales Forecast
| | | | | | | | | | | | |
| --- | --- | --- | --- | --- | --- | --- | --- | --- | --- | --- | --- |
| Starting Year |   |   | Product |   |   | Unit |   |   |   |   |   |
 
January
February
March
April
May
June
July
August
September
October
November
December
Total
Number of
Units Sold
 
 
 
 
 
 
 
 
 
 
 
 
 
Price
Per Unit
 
 
 
 
 
 
 
 
 
 
 
 
 
Total
Sales Amt
 
 
 
 
 
 
 
 
 
 
 
 
 
Percentage
of Total
 
 
 
 
 
 
 
 
 
 
 
 
 
 
January
February
March
April
May
June
July
August
September
October
November
December
Total
Number of
Units Sold
 
 
 
 
 
 
 
 
 
 
 
 
 
Price
Per Unit
 
 
 
 
 
 
 
 
 
 
 
 
 
Total
Sales Amt
 
 
 
 
 
 
 
 
 
 
 
 
 
Percentage
of Total
 
 
 
 
 
 
 
 
 
 
 
 
 
| | | | | | | | | | | | |
| --- | --- | --- | --- | --- | --- | --- | --- | --- | --- | --- | --- |
| Total Sales Amt |   |   | Total Units |   |   |   |   |   |   |   |   |