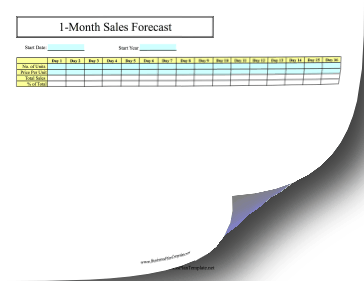 30-Day Sales Forecast
If you want to get a loan, you may need to create a sales forecast. This one-month calendar breaks down sales and prices by day. Blue boxes must be filled in for the white boxes to calculate the rest.
50 editable sales printables in one convenient download



My safe download promise

. Downloads are subject to this site's

term of use

.






Sample text from 30-Day Sales Forecast:
1-Month Sales Forecast
|   | Day 1 | Day 2 | Day 3 | Day 4 | Day 5 | Day 6 | Day 7 | Day 8 | Day 9 | Day 10 | Day 11 | Day 12 | Day 13 | Day 14 | Day 15 | Day 16 | Day 17 | Day 18 | Day 19 | Day 20 | Day 21 | Day 22 | Day 23 | Day 24 | Day 25 | Day 26 | Day 27 | Day 28 | Day 29 | Day 30 | Subtotal |
| --- | --- | --- | --- | --- | --- | --- | --- | --- | --- | --- | --- | --- | --- | --- | --- | --- | --- | --- | --- | --- | --- | --- | --- | --- | --- | --- | --- | --- | --- | --- | --- |
| No. of Units |   |   |   |   |   |   |   |   |   |   |   |   |   |   |   |   |   |   |   |   |   |   |   |   |   |   |   |   |   |   |   |
| Price Per Unit |   |   |   |   |   |   |   |   |   |   |   |   |   |   |   |   |   |   |   |   |   |   |   |   |   |   |   |   |   |   |   |
| Total Sales |   |   |   |   |   |   |   |   |   |   |   |   |   |   |   |   |   |   |   |   |   |   |   |   |   |   |   |   |   |   |   |
| % of Total |   |   |   |   |   |   |   |   |   |   |   |   |   |   |   |   |   |   |   |   |   |   |   |   |   |   |   |   |   |   |   |