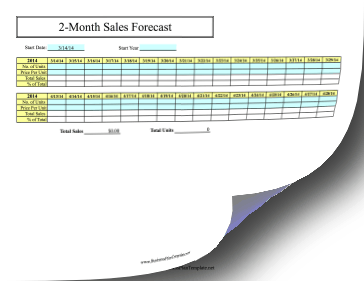 60-Day Sales Forecast
Broken down by days and created to automatically calculate total revenue and percentage, this two-month sales forecast predicts how many units of a product will be sold.
50 editable sales printables in one convenient download



My safe download promise

. Downloads are subject to this site's

term of use

.






Sample text from 60-Day Sales Forecast:
1-Month Sales Forecast
|   | Day 1 | Day 2 | Day 3 | Day 4 | Day 5 | Day 6 | Day 7 | Day 8 | Day 9 | Day 10 | Day 11 | Day 12 | Day 13 | Day 14 | Day 15 | Day 16 | Day 17 | Day 18 | Day 19 | Day 20 | Day 21 | Day 22 | Day 23 | Day 24 | Day 25 | Day 26 | Day 27 | Day 28 | Day 29 | Day 30 | Subtotal |
| --- | --- | --- | --- | --- | --- | --- | --- | --- | --- | --- | --- | --- | --- | --- | --- | --- | --- | --- | --- | --- | --- | --- | --- | --- | --- | --- | --- | --- | --- | --- | --- |
| No. of Units |   |   |   |   |   |   |   |   |   |   |   |   |   |   |   |   |   |   |   |   |   |   |   |   |   |   |   |   |   |   |   |
| Price Per Unit |   |   |   |   |   |   |   |   |   |   |   |   |   |   |   |   |   |   |   |   |   |   |   |   |   |   |   |   |   |   |   |
| Total Sales |   |   |   |   |   |   |   |   |   |   |   |   |   |   |   |   |   |   |   |   |   |   |   |   |   |   |   |   |   |   |   |
| % of Total |   |   |   |   |   |   |   |   |   |   |   |   |   |   |   |   |   |   |   |   |   |   |   |   |   |   |   |   |   |   |   |
|   | Day 1 | Day 2 | Day 3 | Day 4 | Day 5 | Day 6 | Day 7 | Day 8 | Day 9 | Day 10 | Day 11 | Day 12 | Day 13 | Day 14 | Day 15 | Day 16 | Day 17 | Day 18 | Day 19 | Day 20 | Day 21 | Day 22 | Day 23 | Day 24 | Day 25 | Day 26 | Day 27 | Day 28 | Day 29 | Day 30 | Subtotal |
| --- | --- | --- | --- | --- | --- | --- | --- | --- | --- | --- | --- | --- | --- | --- | --- | --- | --- | --- | --- | --- | --- | --- | --- | --- | --- | --- | --- | --- | --- | --- | --- |
| No. of Units |   |   |   |   |   |   |   |   |   |   |   |   |   |   |   |   |   |   |   |   |   |   |   |   |   |   |   |   |   |   |   |
| Price Per Unit |   |   |   |   |   |   |   |   |   |   |   |   |   |   |   |   |   |   |   |   |   |   |   |   |   |   |   |   |   |   |   |
| Total Sales |   |   |   |   |   |   |   |   |   |   |   |   |   |   |   |   |   |   |   |   |   |   |   |   |   |   |   |   |   |   |   |
| % of Total |   |   |   |   |   |   |   |   |   |   |   |   |   |   |   |   |   |   |   |   |   |   |   |   |   |   |   |   |   |   |   |