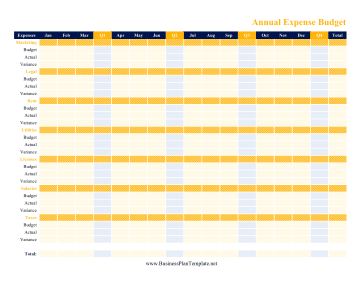 Annual Expense Budget
Projected and actual expenses for every month of the year are broken down into categories such as marketing, salaries, and rent in this annual business expense budget.
40 editable budget printables in one convenient download



My safe download promise

. Downloads are subject to this site's

term of use

.




Sample text from Annual Expense Budget:
Annual Expense Budget
| Expenses | Jan | Feb | Mar | Q1 | Apr | May | Jun | Q2 | Jul | Aug | Sep | Q3 | Oct | Nov | Dec | Q4 | Total |
| --- | --- | --- | --- | --- | --- | --- | --- | --- | --- | --- | --- | --- | --- | --- | --- | --- | --- |
| Marketing |   |   |   |   |   |   |   |   |   |   |   |   |   |   |   |   |   |
| Budget |   |   |   |   |   |   |   |   |   |   |   |   |   |   |   |   |   |
| Actual |   |   |   |   |   |   |   |   |   |   |   |   |   |   |   |   |   |
| Variance |   |   |   |   |   |   |   |   |   |   |   |   |   |   |   |   |   |
| Legal |   |   |   |   |   |   |   |   |   |   |   |   |   |   |   |   |   |
| Budget |   |   |   |   |   |   |   |   |   |   |   |   |   |   |   |   |   |
| Actual |   |   |   |   |   |   |   |   |   |   |   |   |   |   |   |   |   |
| Variance |   |   |   |   |   |   |   |   |   |   |   |   |   |   |   |   |   |
| Rent |   |   |   |   |   |   |   |   |   |   |   |   |   |   |   |   |   |
| Budget |   |   |   |   |   |   |   |   |   |   |   |   |   |   |   |   |   |
| Actual |   |   |   |   |   |   |   |   |   |   |   |   |   |   |   |   |   |
| Variance |   |   |   |   |   |   |   |   |   |   |   |   |   |   |   |   |   |
| Utilities |   |   |   |   |   |   |   |   |   |   |   |   |   |   |   |   |   |
| Budget |   |   |   |   |   |   |   |   |   |   |   |   |   |   |   |   |   |
| Actual |   |   |   |   |   |   |   |   |   |   |   |   |   |   |   |   |   |
| Variance |   |   |   |   |   |   |   |   |   |   |   |   |   |   |   |   |   |
| Licenses |   |   |   |   |   |   |   |   |   |   |   |   |   |   |   |   |   |
| Budget |   |   |   |   |   |   |   |   |   |   |   |   |   |   |   |   |   |
| Actual |   |   |   |   |   |   |   |   |   |   |   |   |   |   |   |   |   |
| Variance |   |   |   |   |   |   |   |   |   |   |   |   |   |   |   |   |   |
| Salaries |   |   |   |   |   |   |   |   |   |   |   |   |   |   |   |   |   |
| Budget |   |   |   |   |   |   |   |   |   |   |   |   |   |   |   |   |   |
| Actual |   |   |   |   |   |   |   |   |   |   |   |   |   |   |   |   |   |
| Variance |   |   |   |   |   |   |   |   |   |   |   |   |   |   |   |   |   |
| Taxes |   |   |   |   |   |   |   |   |   |   |   |   |   |   |   |   |   |
| Budget |   |   |   |   |   |   |   |   |   |   |   |   |   |   |   |   |   |
| Actual |   |   |   |   |   |   |   |   |   |   |   |   |   |   |   |   |   |
| Variance |   |   |   |   |   |   |   |   |   |   |   |   |   |   |   |   |   |
| Total |   |   |   |   |   |   |   |   |   |   |   |   |   |   |   |   |   |