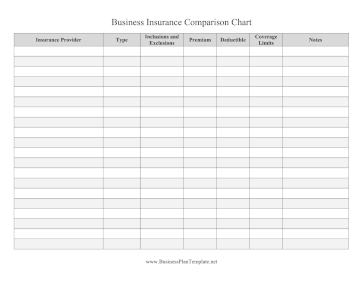 Business Insurance Comparison Chart
This chart makes it easier to compare elements of various insurance policies needed by a business such as liability, property, and workers compensation. There is room to list inclusions and exclusions as well as premiums, deductibles, and policy coverage limits.
My safe download promise
. Downloads are subject to this site's
term of use
.
Sample text from Business Insurance Comparison Chart:

Business Insurance Comparison Chart
| | | | | | | |
| --- | --- | --- | --- | --- | --- | --- |
| Insurance Provider | Type | Inclusions and Exclusions | Premium | Deductible | Coverage Limits | Notes |
|   |   |   |   |   |   |   |
|   |   |   |   |   |   |   |
|   |   |   |   |   |   |   |
|   |   |   |   |   |   |   |
|   |   |   |   |   |   |   |
|   |   |   |   |   |   |   |
|   |   |   |   |   |   |   |
|   |   |   |   |   |   |   |
|   |   |   |   |   |   |   |
|   |   |   |   |   |   |   |
|   |   |   |   |   |   |   |
|   |   |   |   |   |   |   |
|   |   |   |   |   |   |   |
|   |   |   |   |   |   |   |
|   |   |   |   |   |   |   |
|   |   |   |   |   |   |   |
|   |   |   |   |   |   |   |
|   |   |   |   |   |   |   |
|   |   |   |   |   |   |   |