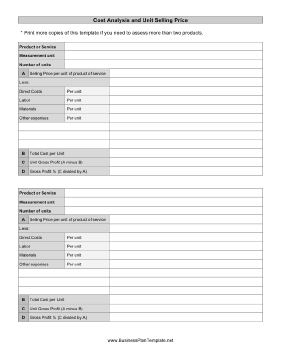 Cost Analysis
This Cost Analysis worksheet will help you determine how to price your products.
My safe download promise
. Downloads are subject to this site's
term of use
.









Sample text from Cost Analysis:
Cost Analysis and Unit Selling Price
Print more copies of this template if you need to assess more than two products.
| | | |
| --- | --- | --- |
| Product or Service |   |   |
| Measurement unit |   |   |
| Number of units |   |   |
| A. Selling Price per unit of product of service | |   |
| Less |   |   |
| Direct Costs | Per unit: |   |
| Labor | Per unit: |   |
| Materials | Per unit: |   |
| Other expenses | Per unit: |   |
|   |   |   |
|   |   |   |
|   |   |   |
| B. Total Cost per Unit | |   |
| C. Unit Gross Profit (A minus B) | |   |
| D. Gross Profit % (C divided by A) | |   |
| | | |
| --- | --- | --- |
| Product or Service |   |   |
| Measurement unit |   |   |
| Number of units |   |   |
| A. Selling Price per unit of product of service | |   |
| Less |   |   |
| Direct Costs | Per unit: |   |
| Labor | Per unit: |   |
| Materials | Per unit: |   |
| Other expenses | Per unit: |   |
|   |   |   |
|   |   |   |
|   |   |   |
| B. Total Cost per Unit | |   |
| C. Unit Gross Profit (A minus B) | |   |
| D. Gross Profit % (C divided by A) | |   |