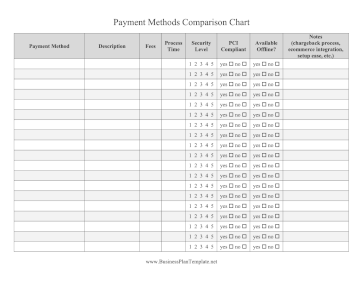 Customer Payment Options Comparison Chart
Potential payment methods such as personal check, credit, electronic payments, mobile wallets, and more are pre-filled on this chart that will help a business owner decide which options to offer.
40 editable budget printables in one convenient download



My safe download promise

. Downloads are subject to this site's

term of use

.




Sample text from Customer Payment Options Comparison Chart:

Payment Methods Comparison Chart
| | | | | | | | |
| --- | --- | --- | --- | --- | --- | --- | --- |
| Payment Method | Description | Fees | Process Time | Security Level | PCI Compliant | Available Offline? | Notes |
|   |   |   |   | 1 2 3 4 5 | yes/no | yes/no |   |
|   |   |   |   | 1 2 3 4 5 | yes/no | yes/no |   |
|   |   |   |   | 1 2 3 4 5 | yes/no | yes/no |   |
|   |   |   |   | 1 2 3 4 5 | yes/no | yes/no |   |
|   |   |   |   | 1 2 3 4 5 | yes/no | yes/no |   |
|   |   |   |   | 1 2 3 4 5 | yes/no | yes/no |   |
|   |   |   |   | 1 2 3 4 5 | yes/no | yes/no |   |
|   |   |   |   | 1 2 3 4 5 | yes/no | yes/no |   |
|   |   |   |   | 1 2 3 4 5 | yes/no | yes/no |   |
|   |   |   |   | 1 2 3 4 5 | yes/no | yes/no |   |
|   |   |   |   | 1 2 3 4 5 | yes/no | yes/no |   |
|   |   |   |   | 1 2 3 4 5 | yes/no | yes/no |   |
|   |   |   |   | 1 2 3 4 5 | yes/no | yes/no |   |
|   |   |   |   | 1 2 3 4 5 | yes/no | yes/no |   |
|   |   |   |   | 1 2 3 4 5 | yes/no | yes/no |   |
|   |   |   |   | 1 2 3 4 5 | yes/no | yes/no |   |
|   |   |   |   | 1 2 3 4 5 | yes/no | yes/no |   |
|   |   |   |   | 1 2 3 4 5 | yes/no | yes/no |   |
|   |   |   |   | 1 2 3 4 5 | yes/no | yes/no |   |
|   |   |   |   | 1 2 3 4 5 | yes/no | yes/no |   |
|   |   |   |   | 1 2 3 4 5 | yes/no | yes/no |   |