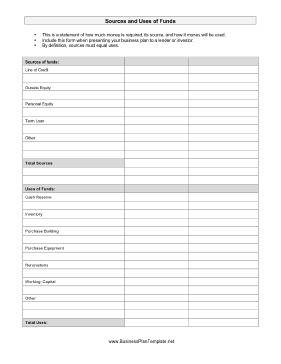 Fund Sources And Uses
This Fund Sources And Uses can be a help in understanding what funds and other assets you may have available to use.
My safe download promise
. Downloads are subject to this site's
term of use
.








Sample text from Fund Sources And Uses:
Sources and Uses of Funds
This is a statement of how much money is required, its source, and how it money will be used.
Include this form when presenting your business plan to a lender or investor.
By definition, sources must equal uses.
| | | |
| --- | --- | --- |
| Sources of funds: |   |   |
| Line of Credit |   |   |
|   |   |   |
| Outside Equity |   |   |
|   |   |   |
| Personal Equity |   |   |
|   |   |   |
| Term Loan |   |   |
|   |   |   |
| Other |   |   |
|   |   |   |
|   |   |   |
| Total Sources |   |   |
|   |   |   |
|   |   |   |
| Uses of Funds: |   |   |
| Cash Reserve |   |   |
|   |   |   |
| Inventory |   |   |
|   |   |   |
| Purchase Building |   |   |
|   |   |   |
| Purchase Equipment |   |   |
|   |   |   |
| Renovations |   |   |
|   |   |   |
| Working  Capital |   |   |
|   |   |   |
| Other |   |   |
|   |   |   |
|   |   |   |
| Total Uses: |   |   |