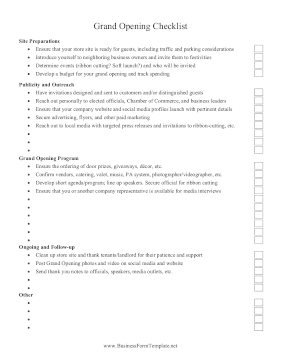 Grand Opening Checklist
Maximize exposure for your new business or location with this grand opening letter inviting an official or business partner to participate in the celebrations.
My safe download promise
. Downloads are subject to this site's
term of use
.

Sample text from Grand Opening Checklist:

Grand Opening Checklist
Site Preparations
Ensure that your store site is ready for guests, including traffic and parking considerations
Introduce yourself to neighboring business owners and invite them to festivities
Determine events (ribbon cutting? Soft launch?) and who will be invited
Develop a budget for your grand opening and track spending
Publicity and Outreach
Have invitations designed and sent to customers and/or distinguished guests
Reach out personally to elected officials, Chamber of Commerce, and business leaders
Ensure that your company website and social media profiles launch with pertinent details
Secure advertising, flyers, and other paid marketing
Reach out to local media with targeted press releases and invitations to ribbon-cutting, etc.
Grand Opening Program
Ensure the ordering of door prizes, giveaways, décor, etc.
Confirm vendors, catering, valet, music, PA system, photographer/videographer, etc.
Develop short agenda/program; line up speakers. Secure official for ribbon cutting
Ensure that you or another company representative is available for media interviews
Ongoing and Follow-Up
Clean up store site and thank tenants/landlord for their patience and support
Post Grand Opening photos and video on social media and website
Send thank you notes to officials, speakers, media outlets, etc.
Other