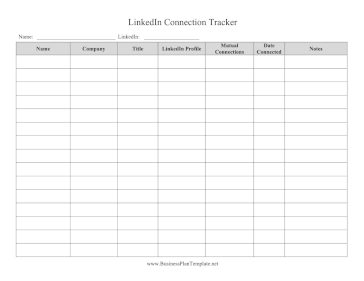 LinkedIn Connection Tracker
This simple grid lets business owners and other professionals track whom they are networking with on the social platform LinkedIn. There is room to note profile URLs as well as mutual connections.
My safe download promise
. Downloads are subject to this site's
term of use
.
Sample text from LinkedIn Connection Tracker:

LinkedIN Connection Tracker
| | | | | | | |
| --- | --- | --- | --- | --- | --- | --- |
| Name | Company | Title | LinkedIn Profile | Mutual Connections | Date Connected | Notes |
|   |   |   |   |   |   |   |
|   |   |   |   |   |   |   |
|   |   |   |   |   |   |   |
|   |   |   |   |   |   |   |
|   |   |   |   |   |   |   |
|   |   |   |   |   |   |   |
|   |   |   |   |   |   |   |
|   |   |   |   |   |   |   |
|   |   |   |   |   |   |   |
|   |   |   |   |   |   |   |
|   |   |   |   |   |   |   |
|   |   |   |   |   |   |   |
|   |   |   |   |   |   |   |
|   |   |   |   |   |   |   |
|   |   |   |   |   |   |   |
|   |   |   |   |   |   |   |
|   |   |   |   |   |   |   |
|   |   |   |   |   |   |   |
|   |   |   |   |   |   |   |
|   |   |   |   |   |   |   |
|   |   |   |   |   |   |   |