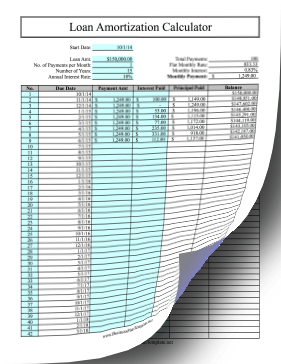 Loan Amortization Calculator
Calculate how long it will take to pay off a loan, as well as incremental payments to principal and interest with this amortization calculator. Users fill in the blue boxes; the rest is calculated automatically.
My safe download promise
. Downloads are subject to this site's
term of use
.





Sample text from Loan Amortization Calculator:
Loan Amortization Calculator
| | | | |
| --- | --- | --- | --- |
| Start Date |   | |   |
| |   | |   |
| Loan Amt. |   | Total Payments |   |
| No. of Payments per Month |   | Flat Monthly Rate |   |
| Number of Years |   | Monthly Interest |   |
| Annual Interest Rate |   | Monthly Payment |   |
| | | | | | |
| --- | --- | --- | --- | --- | --- |
| No. | Due Date | Payment Amt. | Interest Paid | Principal Paid | Balance |
| 1 |   |   |   |   |   |
| 2 |   |   |   |   |   |
| 3 |   |   |   |   |   |
| 4 |   |   |   |   |   |
| 5 |   |   |   |   |   |
| 6 |   |   |   |   |   |
| 7 |   |   |   |   |   |
| 8 |   |   |   |   |   |
| 9 |   |   |   |   |   |
| 10 |   |   |   |   |   |
| 11 |   |   |   |   |   |
| 12 |   |   |   |   |   |
| 13 |   |   |   |   |   |
| 14 |   |   |   |   |   |
| 15 |   |   |   |   |   |
| 16 |   |   |   |   |   |
| 17 |   |   |   |   |   |
| 18 |   |   |   |   |   |
| 19 |   |   |   |   |   |
| 20 |   |   |   |   |   |
| 21 |   |   |   |   |   |
| 22 |   |   |   |   |   |
| 23 |   |   |   |   |   |
| 24 |   |   |   |   |   |
| 25 |   |   |   |   |   |