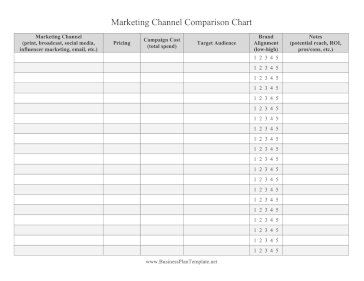 Marketing Channel Comparison Chart
Determine the best way to spend marketing dollars with the help of this chart that lets business owners compare various types of media as well as advertising options. There are columns in which to note target audience, pricing, potential reach, and more.
25 editable public relations printables in one convenient download



My safe download promise

. Downloads are subject to this site's

term of use

.




Sample text from Marketing Channel Comparison Chart:

Marketing Channel Comparison Chart
| | | | | | |
| --- | --- | --- | --- | --- | --- |
| Marketing Channel (print, broadcast, social media, influencer marketing, email, etc.) | Pricing | Campaign Cost (total spend) | Target Audience | Brand Alignment (low-high) | Notes (potential reach, ROI, pros/cons, etc.) |
|   |   |   |   | 1 2 3 4 5 |   |
|   |   |   |   | 1 2 3 4 5 |   |
|   |   |   |   | 1 2 3 4 5 |   |
|   |   |   |   | 1 2 3 4 5 |   |
|   |   |   |   | 1 2 3 4 5 |   |
|   |   |   |   | 1 2 3 4 5 |   |
|   |   |   |   | 1 2 3 4 5 |   |
|   |   |   |   | 1 2 3 4 5 |   |
|   |   |   |   | 1 2 3 4 5 |   |
|   |   |   |   | 1 2 3 4 5 |   |
|   |   |   |   | 1 2 3 4 5 |   |
|   |   |   |   | 1 2 3 4 5 |   |
|   |   |   |   | 1 2 3 4 5 |   |
|   |   |   |   | 1 2 3 4 5 |   |
|   |   |   |   | 1 2 3 4 5 |   |
|   |   |   |   | 1 2 3 4 5 |   |
|   |   |   |   | 1 2 3 4 5 |   |
|   |   |   |   | 1 2 3 4 5 |   |
|   |   |   |   | 1 2 3 4 5 |   |
|   |   |   |   | 1 2 3 4 5 |   |
|   |   |   |   | 1 2 3 4 5 |   |
|   |   |   |   | 1 2 3 4 5 |   |