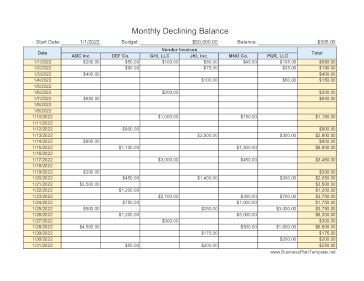 Monthly Declining Balance
Great for restaurants, this declining balance allows owners to make sure that vendor payments do not exceed the monthly budget. Cells in yellow calculate automatically, including updates to the allocated budget at the top.
35 editable accounting and bookkeeping printables in one convenient download



My safe download promise

. Downloads are subject to this site's

term of use

.




Sample text from Monthly Declining Balance:

Monthly Declining Balance
| | | | | | |
| --- | --- | --- | --- | --- | --- |
| Start Date: | __________________ | Budget: | __________________ | Balance: | __________________ |
| | | | | | | |
| --- | --- | --- | --- | --- | --- | --- |
| Date | Vendor 1 | Vendor 2 | Vendor 3 | Vendor 4 | Vendor 5 | Total |
|   |   |   |   |   |   |   |
|   |   |   |   |   |   |   |
|   |   |   |   |   |   |   |
|   |   |   |   |   |   |   |
|   |   |   |   |   |   |   |
|   |   |   |   |   |   |   |
|   |   |   |   |   |   |   |
|   |   |   |   |   |   |   |
|   |   |   |   |   |   |   |
|   |   |   |   |   |   |   |
|   |   |   |   |   |   |   |
|   |   |   |   |   |   |   |
|   |   |   |   |   |   |   |
|   |   |   |   |   |   |   |
|   |   |   |   |   |   |   |
|   |   |   |   |   |   |   |