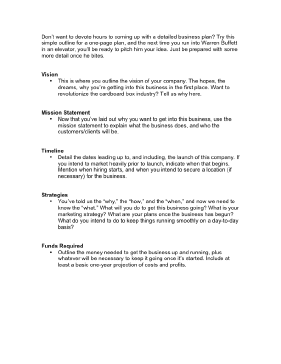 One Page Business Plan
This One Page Business Plan can serve as a bare bones business plan, or act as the executive summary for a more detailed plan.
50 editable start-up printables in one convenient download



My safe download promise

. Downloads are subject to this site's

term of use

.












Sample text from One Page Business Plan:
One Page Business Plan
Don't want to devote hours to coming up with a detailed business plan? Try this simple outline for a one-page plan, and the next time you run into Warren Buffett in an elevator, you'll be ready to pitch him your idea. Just be prepared with some more detail once he bites.
Vision
This is where you outline the vision of your company. The hopes, the dreams, why you're getting into this business in the first place. Want to revolutionize the cardboard box industry? Tell us why here.
Mission Statement
Now that you've laid out why you want to get into this business, use the mission statement to explain what the business does, and who the customers/clients will be.
Timeline
Detail the dates leading up to, and including, the launch of this company. If you intend to market heavily prior to launch, indicate when that begins. Mention when hiring starts, and when you intend to secure a location (if necessary) for the business.
Strategies
You've told us the "why," the "how," and the "when," and now we need to know the "what." What will you do to get this business going? What is your marketing strategy? What are your plans once the business has begun? What do you intend to do to keep things running smoothly on a day-to-day basis?
Funds Required
Outline the money needed to get the business up and running, plus whatever will be necessary to keep it going once it's started. Include at least a basic one-year projection of costs and profits.