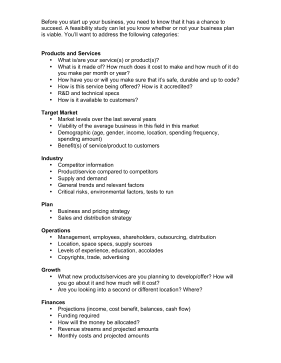 One Page Feasibility Study
Before opening a business, answer the questions in this feasibility study to make sure the plan is viable.
My safe download promise
. Downloads are subject to this site's
term of use
.


Sample text from One Page Feasibility Study:
Before you start up your business, you need to know that it has a chance to succeed. A feasibility study can let you know whether or not your business plan is viable. You'll want to address the following categories:
Products and Services
What is/are your service(s) or product(s)?
What is it made of? How much does it cost to make and how much of it do you make per month or year?
How have you or will you make sure that it's safe, durable and up to code?
How is this service being offered? How is it accredited?
R&D and technical specs
How is it available to customers?
Target Market
Market levels over the last several years
Viability of the average business in this field in this market
Demographic (age, gender, income, location, spending frequency, spending amount)
Benefit(s) of service/product to customers
Industry
Competitor information
Product/service compared to competitors
Supply and demand
General trends and relevant factors
Critical risks, environmental factors, tests to run
Plan
Business and pricing strategy
Sales and distribution strategy
Operations
Management, employees, shareholders, outsourcing, distribution
Location, space specs, supply sources
Levels of experience, education, accolades
Copyrights, trade, advertising
Growth
What new products/services are you planning to develop/offer? How will you go about it and how much will it cost?
Are you looking into a second or different location? Where?
Finances
Projections (income, cost benefit, balances, cash flow)
Funding required
How will the money be allocated?
Revenue streams and projected amounts
Monthly costs and projected amounts