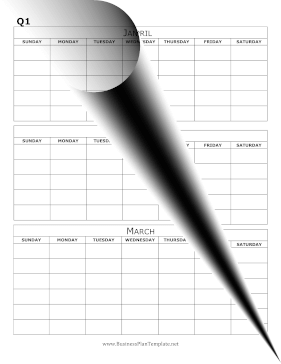 Quarterly Planner
This blank calendar has one quarter (three months) on each page, making it ideal for any business owner who plans by Q1, Q2, Q3, and Q4. The planner is undated so it can be used in any year.
My safe download promise
. Downloads are subject to this site's
term of use
.





Sample text from Quarterly Planner:

Q1
January
| | | | | | | |
| --- | --- | --- | --- | --- | --- | --- |
| Sunday | Monday | Tuesday | Wednesday | Thursday | Friday | Saturday |
|   |   |   |   |   |   |   |
|   |   |   |   |   |   |   |
|   |   |   |   |   |   |   |
|   |   |   |   |   |   |   |
|   |   |   |   |   |   |   |
February
| | | | | | | |
| --- | --- | --- | --- | --- | --- | --- |
| Sunday | Monday | Tuesday | Wednesday | Thursday | Friday | Saturday |
|   |   |   |   |   |   |   |
|   |   |   |   |   |   |   |
|   |   |   |   |   |   |   |
|   |   |   |   |   |   |   |
|   |   |   |   |   |   |   |
March
| | | | | | | |
| --- | --- | --- | --- | --- | --- | --- |
| Sunday | Monday | Tuesday | Wednesday | Thursday | Friday | Saturday |
|   |   |   |   |   |   |   |
|   |   |   |   |   |   |   |
|   |   |   |   |   |   |   |
|   |   |   |   |   |   |   |
|   |   |   |   |   |   |   |
Q2
April
| | | | | | | |
| --- | --- | --- | --- | --- | --- | --- |
| Sunday | Monday | Tuesday | Wednesday | Thursday | Friday | Saturday |
|   |   |   |   |   |   |   |
|   |   |   |   |   |   |   |
|   |   |   |   |   |   |   |
|   |   |   |   |   |   |   |
|   |   |   |   |   |   |   |
May
| | | | | | | |
| --- | --- | --- | --- | --- | --- | --- |
| Sunday | Monday | Tuesday | Wednesday | Thursday | Friday | Saturday |
|   |   |   |   |   |   |   |
|   |   |   |   |   |   |   |
|   |   |   |   |   |   |   |
|   |   |   |   |   |   |   |
|   |   |   |   |   |   |   |
June
| | | | | | | |
| --- | --- | --- | --- | --- | --- | --- |
| Sunday | Monday | Tuesday | Wednesday | Thursday | Friday | Saturday |
|   |   |   |   |   |   |   |
|   |   |   |   |   |   |   |
|   |   |   |   |   |   |   |
|   |   |   |   |   |   |   |
|   |   |   |   |   |   |   |
Q3
July
| | | | | | | |
| --- | --- | --- | --- | --- | --- | --- |
| Sunday | Monday | Tuesday | Wednesday | Thursday | Friday | Saturday |
|   |   |   |   |   |   |   |
|   |   |   |   |   |   |   |
|   |   |   |   |   |   |   |
|   |   |   |   |   |   |   |
|   |   |   |   |   |   |   |
August
| | | | | | | |
| --- | --- | --- | --- | --- | --- | --- |
| Sunday | Monday | Tuesday | Wednesday | Thursday | Friday | Saturday |
|   |   |   |   |   |   |   |
|   |   |   |   |   |   |   |
|   |   |   |   |   |   |   |
|   |   |   |   |   |   |   |
|   |   |   |   |   |   |   |
September
| | | | | | | |
| --- | --- | --- | --- | --- | --- | --- |
| Sunday | Monday | Tuesday | Wednesday | Thursday | Friday | Saturday |
|   |   |   |   |   |   |   |
|   |   |   |   |   |   |   |
|   |   |   |   |   |   |   |
|   |   |   |   |   |   |   |
|   |   |   |   |   |   |   |
Q4
October
| | | | | | | |
| --- | --- | --- | --- | --- | --- | --- |
| Sunday | Monday | Tuesday | Wednesday | Thursday | Friday | Saturday |
|   |   |   |   |   |   |   |
|   |   |   |   |   |   |   |
|   |   |   |   |   |   |   |
|   |   |   |   |   |   |   |
|   |   |   |   |   |   |   |
November
| | | | | | | |
| --- | --- | --- | --- | --- | --- | --- |
| Sunday | Monday | Tuesday | Wednesday | Thursday | Friday | Saturday |
|   |   |   |   |   |   |   |
|   |   |   |   |   |   |   |
|   |   |   |   |   |   |   |
|   |   |   |   |   |   |   |
|   |   |   |   |   |   |   |
December
| | | | | | | |
| --- | --- | --- | --- | --- | --- | --- |
| Sunday | Monday | Tuesday | Wednesday | Thursday | Friday | Saturday |
|   |   |   |   |   |   |   |
|   |   |   |   |   |   |   |
|   |   |   |   |   |   |   |
|   |   |   |   |   |   |   |
|   |   |   |   |   |   |   |