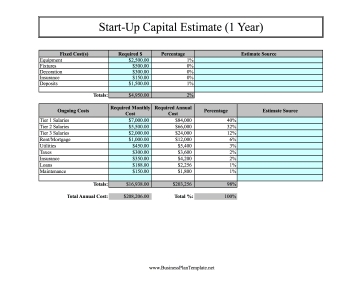 Start-Up Capital Estimate
Estimate the amount of capital required for one-time and ongoing costs with this start-up calculator. Covers one year. Users fill in the blue boxes; the rest is calculated automatically.
50 editable start-up printables in one convenient download



My safe download promise

. Downloads are subject to this site's

term of use

.





Sample text from Start-Up Capital Estimate:
Start-Up Capital Estimate (1 Year)
Fixed Cost(s)

Required $

Percentage

Estimate Source

 
 
 
 
 
 
 
 
 
 
 
 
 
 
 
 
 
 
 
 
 
 
 
 
 
 
 
 

Totals

 
 
 
 

Ongoing Costs

Required Monthly Cost

Required Annual Cost

Percentage

Estimate Source

 
 
 
 
 
 
 
 
 
 
 
 
 
 
 
 
 
 
 
 
 
 
 
 
 
 
 
 
 
 
 
 
 
 
 
 
 
 
 
 

Totals

 
 
 
 
 

Total Annual Cost

 

Total %