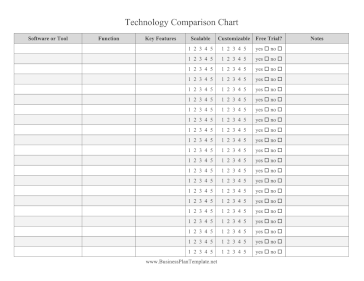 Technology Comparison Chart
When deciding which tech to invest in as a new business owner, including software and cloud-based services, this chart will come in handy. There are also columns in which to rate scalability and other functions.
My safe download promise
. Downloads are subject to this site's
term of use
.
Sample text from Technology Comparison Chart:

Technology Comparison Chart
| | | | | | | |
| --- | --- | --- | --- | --- | --- | --- |
| Software or Tool | Function | Key Features | Scalable | Customizable | Free Trial? | Notes |
|   |   |   | 1 2 3 4 5 | 1 2 3 4 5 | yes/no |   |
|   |   |   | 1 2 3 4 5 | 1 2 3 4 5 | yes/no |   |
|   |   |   | 1 2 3 4 5 | 1 2 3 4 5 | yes/no |   |
|   |   |   | 1 2 3 4 5 | 1 2 3 4 5 | yes/no |   |
|   |   |   | 1 2 3 4 5 | 1 2 3 4 5 | yes/no |   |
|   |   |   | 1 2 3 4 5 | 1 2 3 4 5 | yes/no |   |
|   |   |   | 1 2 3 4 5 | 1 2 3 4 5 | yes/no |   |
|   |   |   | 1 2 3 4 5 | 1 2 3 4 5 | yes/no |   |
|   |   |   | 1 2 3 4 5 | 1 2 3 4 5 | yes/no |   |
|   |   |   | 1 2 3 4 5 | 1 2 3 4 5 | yes/no |   |
|   |   |   | 1 2 3 4 5 | 1 2 3 4 5 | yes/no |   |
|   |   |   | 1 2 3 4 5 | 1 2 3 4 5 | yes/no |   |
|   |   |   | 1 2 3 4 5 | 1 2 3 4 5 | yes/no |   |
|   |   |   | 1 2 3 4 5 | 1 2 3 4 5 | yes/no |   |
|   |   |   | 1 2 3 4 5 | 1 2 3 4 5 | yes/no |   |
|   |   |   | 1 2 3 4 5 | 1 2 3 4 5 | yes/no |   |
|   |   |   | 1 2 3 4 5 | 1 2 3 4 5 | yes/no |   |
|   |   |   | 1 2 3 4 5 | 1 2 3 4 5 | yes/no |   |
|   |   |   | 1 2 3 4 5 | 1 2 3 4 5 | yes/no |   |
|   |   |   | 1 2 3 4 5 | 1 2 3 4 5 | yes/no |   |