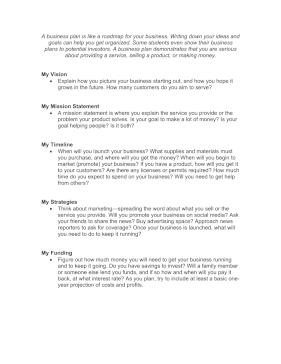 Youth Business Plan Guide
This simple guide walks young business owners through the steps of writing a business plan and projection goals for their product or service. Children can consider expenses, marketing, and other factors.
50 editable start-up printables in one convenient download



My safe download promise

. Downloads are subject to this site's

term of use

.




Sample text from Youth Business Plan Guide:

A business plan is like a roadmap for your business. Writing down your ideas and goals can help you get organized. Some students even show their business plans to potential investors. A business plan demonstrates that you are serious about providing a service, selling a product, or making money.
My Vision
Explain how you picture your business starting out, and how you hope it grows in the future. How many customers do you aim to serve?
My Mission Statement
A mission statement is where you explain the service you provide or the problem your product solves. Is your goal to make a lot of money? Is your goal helping people? Is it both?
My Timeline
When will you launch your business? What supplies and materials must you purchase, and where will you get the money? When will you begin to market (promote) your business? If you have a product, how will you get it to your customers? Are there any licenses or permits required? How much time do you expect to spend on your business? Will you need to get help from others?
My Strategies
Think about marketing—spreading the word about what you sell or the service you provide. Will you promote your business on social media? Ask your friends to share the news? Buy advertising space? Approach news reporters to ask for coverage? Once your business is launched, what will you need to do to keep it running?
My Funding
Figure out how much money you will need to get your business running and to keep it going. Do you have savings to invest? Will a family member or someone else lend you funds, and if so how and when will you pay it back, at what interest rate? As you plan, try to include at least a basic one-year projection of costs and profits.